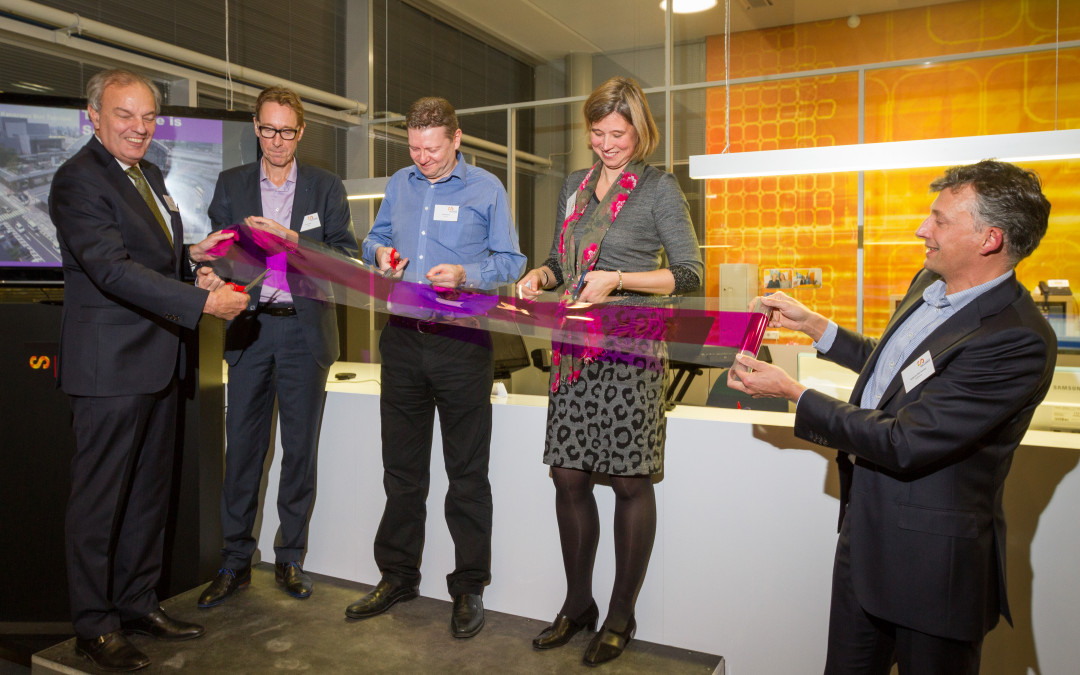 15 Dec

Solliance and Holst Centre launch new roll to roll pilot production tool for flexible solar cells and large area electronics

Today Solliance celebrates its fifth anniversary together with the final commissioning and launch of the roll-to-roll coating line for pilot production of flexible solar modules at the High tech Campus in Eindhoven. The atmospheric R2R coating equipment has been designed and built by a consortium of companies, led by VDL Enabling Technologies Group, in very close cooperation with the researchers from Solliance and Holst Centre. Amongst others Smit Thermal Solutions Bosch Rexroth, JB Systems and Maan Technology participated in the project.
'We are very happy with this milestone', says Solliance director Huib van den Heuvel. 'The specifications and performance of this dedicated pilot production tool are unique in the world and offer the industry an excellent opportunity to reduce time to market and risk while making large scale production of flexible solar modules a reality'.
Simon Bambach, CEO of VDL ETG, expresses his satisfaction with this result: 'We have a lot of experience with accurate handling of delicate substrates, such as silicon wafers in the semiconductor industry and glass panels in the display industry; with this tool we demonstrate that we position ourselves among the best in handling plastic films and metal foils for flexible electronics applications such as printed solar cells. This design is unique as it allows for foil handling without ever touching the active side of the substrate; it is the result of the involvement of lead designers from various disciplines and industries and the researchers of Solliance/Holst Centre. We have invested 3 years in the development and realization of this tool, a considerable investment, and now we're looking forward to demonstrate it at Solliance to parties from all over the world'.
One of these industrial parties is Dyesol, leader in the development of Perovskite solar technology, having its headquarter in Australia. Perovskite is a promising relatively new thin film material. Chris Moore, Technology Manager at Dyesol's research team in Manchester: 'we know what is available worldwide in terms of research facilities, expertise and pilot production tooling. We have deliberately chosen to work with Solliance in the conviction that its combination of know-how and infrastructure will enable the shortest route to market for us'.
Ton van Mol, director of the Holst Centre, sees a variety of applications that can benefit from the new production system: 'We are starting a big European project for the development of flexible OLED lighting devices. Together with Solliance we share teams and tooling for multiple applications and industries. We regard roll-to-roll manufacturing strategies ideal to enable low cost production of  flexible electronics. Sharing the investments between parties is necessary to manage the R&D investments and stay ahead.'
Merei Wagenaar from the Dutch Ministry of Economic Affairs adds: 'This achievement shows the strength of the close collaboration of industry, knowledge institutes and government. Also in view of recent development at COP21 in Paris we see a growing sense of urgency to make the transition to a sustainable energy system happen; this shift begins with having the right technology'.
In this case the Province of Brabant had a special role with the decision on December 10th, 2011 to invest 28 million Euro in Solliance. In the last five years Solliance has grown from an idea to a large organization, providing a brand and a structure for 250 researchers from eight different research organizations and a growing number of industrial partners, focusing on the further development of thin film photovoltaic solar systems. In June of last year Solliance celebrated the grand opening of its brand new facility at the High Tech Campus in Eindhoven.
'This fifth anniversary marks the completion of our build-up phase', notes van den Heuvel. 'Next to integration of the research teams from the Netherlands, Belgium and Germany we have invested in a world-class research and pilot production infrastructure with a number of novel processes that can potentially have an impact in the industry; we invite all interested companies, locally and from abroad, to come to Solliance and benefit from all this. In the coming years we will also extend our focus to the integration of photovoltaic systems in all kinds of immobile and mobile applications. We see good opportunities to create economic activity in the value chain leading to the production of solar cells and in the creation of solar active products.'