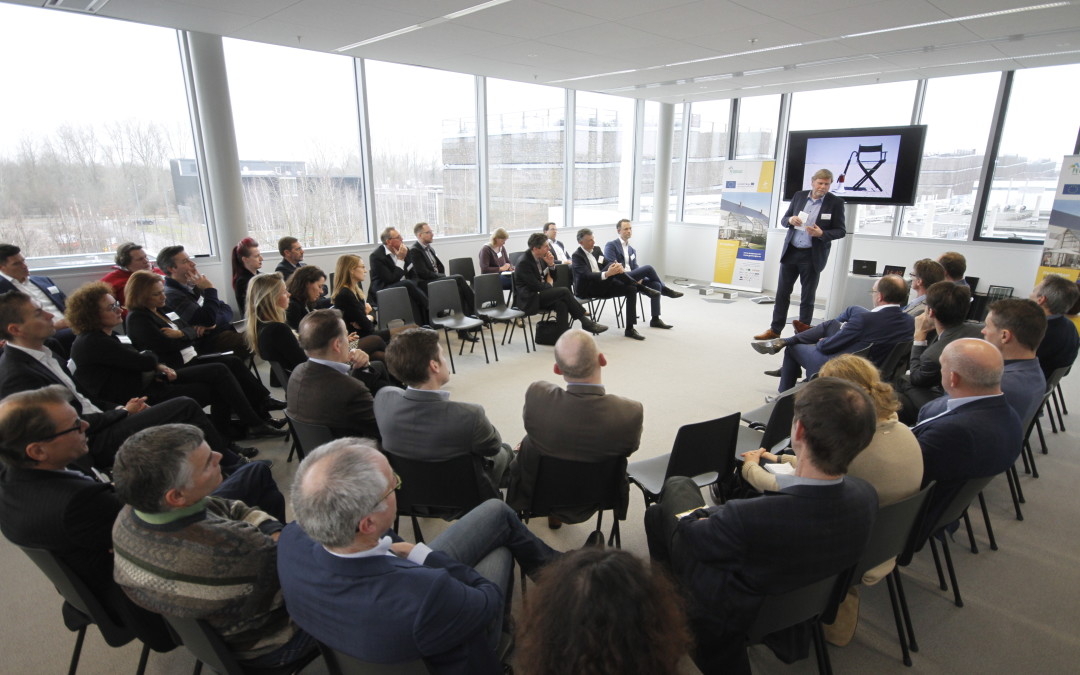 06 Feb

"We have all the technology in-house, but lack the direction and vision between the various platforms"

Vandaag organiseerde Solliance in samenwerking met de Nederlandse Vereniging Duurzame Energie (NVDE) een discussiesessie onder vertegenwoordigers van belangrijke spelers in de energietransitie, met in het bijzonder aandacht voor de rol die zonne-energie in de transitie naar een duurzaam energiesysteem heeft en in de toekomst kan hebben. Het thema 'De impact van een doorbraak van zonne-energie voor Nederland' werd benaderd worden vanuit verschillende perspectieven, zoals vanuit de eindgebruiker, de energieleverancier, het bouwbedrijf, de industrie, de politiek, de startup en de onderzoeker.

Deze discussie ging vooraf aan het verkiezingsdebat met aspirant Kamerleden André Bosman (VVD), Agnes Mulder (CDA) en Sandra Beckerman (SP) over het thema 'Energietransitie', dat op locatie bij Solliance werd georganiseerd door BNR nieuwsradio en de NVDE.

De discussie vond plaats aan de hand van een aantal pitches van diverse sprekers, waaronder Wim Sinke (ECN), Gerard De Leede (SCX Solar), Rob Bogaarts (Woonbedrijf), Frits van Hout (ASML/Brainport regio) en Teun Bokhoven (Topsector Energie, NVDE).

De sprekers waren allen van mening dat er op dit gebied grote technische en economische kansen liggen voor Nederland. "Er is een grote urgentie en een gigantische uitdaging, zowel in snelheid en kwantiteit, om aan de eisen van het klimaatakkoord van Parijs te voldoen, wat economische mogelijkheden met zich meebrengt", aldus spreker Wim Sinke. Een grote uitdaging ligt op het gebied van de integratie van verschillende technologieën die nodig zijn om zonne-energie op grote schaal te implementeren, zowel als een op zichzelf staand systeem als in een groter geheel van duurzame energiebronnen . "We hebben alle technologie  in huis, maar missen de regie en de visie tussen de verschillende kennisplatformen", aldus Gerard De Leede.

Ook regelgeving staat een grootschalige invoer van zonne-energie in de weg, is Rob Boogaarts van Woonbedrijf van mening: "Of het nu gaat om saldering van overproductie of het plaatsen van zonnepanelen op huurwoningen, de bestaande regelgeving biedt voor deze situaties op dit moment geen uitkomst."

"Een gebrek aan goede opslagfaciliteiten brengt de energie transitie in gevaar, maar biedt Nederland ook enorme kansen biedt, mits de activiteiten op dit gebied worden gecoördineerd", aldus Frits van Hout. Ook Teun Bokhoven beaamde dat opslag om de fluctuaties in de opbrengst van duurzame energie op te vangen de cruciale factor gaat zijn in een succesvolle transitie.