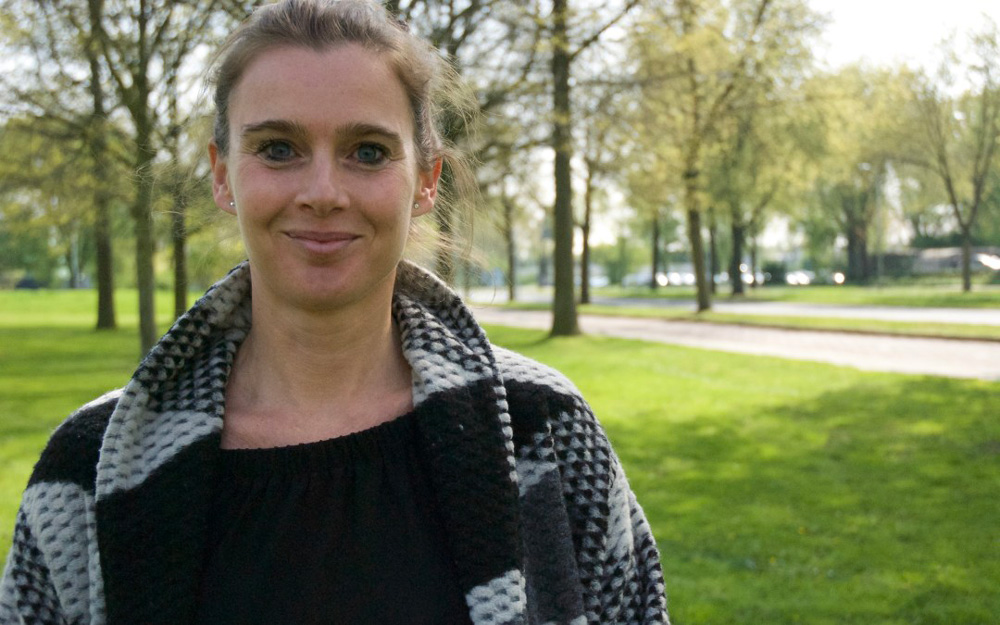 25 Apr

Solarix wants to make solar energy sexier

Studio Solarix wants to bring a façade tile to market that looks good, in addition to generating energy. The green start-up is looking into ways of integrating thin film PV into façade tiles together with Solliance. Marloes van Heteren from Solarix understands that integration is important in the construction industry. 'The focus in the solar cell industry on efficiency and standardisation isn't in line with market demands.'

Marloes can get very worked up about climate sceptics. Or people who refuse to worry about climate change, as long as it doesn't affect them. Since 2010, Marloes has been a partner in the 'green' CUBE Architecten in Amsterdam. Last year, she set up Studio Solarix, together with product designer Reinier Bosch.  'In this way, I try to do my part for the energy transition.'

When it comes to the transition to sustainable energy, there is much to be gained in the built environment. Marloes is convinced of this. 'However, to do so, it's imperative that we start generating power in high-rise buildings, and on façades. Otherwise we won't succeed.'
Printing on ceramic tiles
Originally, Marloes and Reinier – her business partner and brother-in-law – wanted to print solar cells on ceramic tiles. Reinier heard about printing solar cells at a meeting, which is how the first contact with Solliance came about. Together with Mosa, a manufacturer of ceramic tiles in Maastricht, Solarix and Solliance investigated the possibilities. 'However, in the end it turned out it wasn't feasible, financially and technically', says Marloes.
Solarix Studio therefore developed an energy-generating façade system, in which traditional c-Si solar cells are integrated. The system consists of three different tiles: one which is composed entirely of glass (at an angle), one of a composite material, and one element which consists partly of glass and partly of composite.
In principle, the system can already be applied. 'It complies with all the requirements that a construction product must meet.' Moreover, a customer has already presented itself: Kuijpers Installaties in Helmond wants to cover its façade with the system. However, to partly recoup the development costs, Solarix is looking for additional funding, in addition to the contribution of Kuijpers.
Is thin film a must?
Thin-film solar cells are not a must for Marloes and Reinier. And yet, Studio Solarix will be continuing its cooperation with Solliance. 'Thin-film technology does have a number of advantages for the future', says Marloes. Most of these advantages revolve around design freedom. The current, 30 cm-wide thin-film solar panels aren't very interesting for architects and product designers. But it's a whole different story if you're able to cut them to size, or bend or laminate them. 'Another advantage of thin-film technology is that it is less sensitive to the effects of shadows and correct angles.'
Further research will be based on the composite cladding tiles Solarix has already developed. The question is whether thin-film solar panels can be integrated into the production process of those tiles. And if so, to what extent this is possible and desirable.
Solliance is currently working on a plan of action for the research. A first prototype should be ready by the end of this year. The next step will be to develop new models of energy-generating façade tiles based on thin-film technology, which can be produced at an acceptable cost.
Connecting worlds
'We want to translate the semi-finished products of Solliance into a product that meets the aesthetic and technical requirements of the construction industry', says Marloes. Solarix wants to link the worlds of construction and solar energy. 'We want to make solar more sexy,' the architect says laughing.
When Marloes and Reinier first came to Solliance a few years ago, they were received with some scepticism. 'It felt like people were wondering why we even needed architects and designers.' However, this attitude has since turned into enthusiasm. And this is important for the duo, who are 100% committed to make a success of Solarix.
Marloes believes that Solliance and Solarix can mean a lot to each other.  The start-up needs knowledge of the available technologies and production options. In return, Solliance gets a fresh look at things: don't focus too much on efficiency and standardisation, but also look at integration and design freedom.
Solarix also has extensive knowledge of and contacts in the construction industry, which is an interesting market for Solliance. Integration is important in this industry, where prefabricated elements are being used more and more these days. And clients, especially those who can afford a more expensive company building, attach great value to design. Marloes: 'Everyone is sick and tired of all those shiny, black façades. Colour and texture can really add something to a façade. Ugly doesn't sell.'