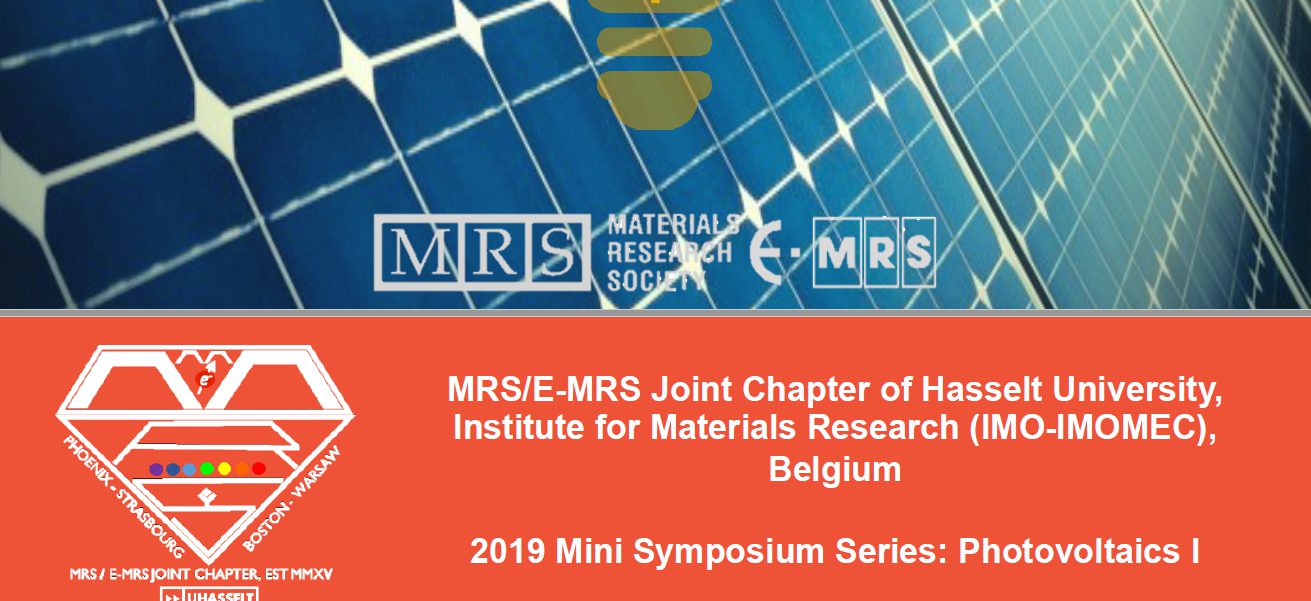 05 Aug

MRS/E-MRS Mini Symposium Series on Photovoltaics at Energyville, Genk

On August 7th and 14th, MRS/E-MRS Joint Chapter of Hasselt University and Institute for Materials Research (IMO-IMOMEC) organize a series Mini Symposiums on photovoltaics. The symposium is chaired by Prof. Dr. Bart Vermang and hosting international speakers.

Solliance researcher Dr. Veronique S. Gevearts will contribute in Session I with "Industrial scale-up for back-end interconnection technology on CIGS" and will present the results work that her team at Solliance on CIGS Back-end interconnection together with industry.

Session I will cover "Industrialization and up-scaling of emerging and alternative PV technologies for clean energy production" with contributions from Dr. Veronique S. Gevearts (Solliance Solar Research/TNO, Netherlands), Dr. Stefano Pisoni (EMPA, Switzerland) and Prof. Dr. Stefaan De Wolf (KAUST, Saudi Arabia).
Session II topics "High-efficiency perovskite solar cells: From fundamental approaches to evaporated up-scaling" with contributions of Dr. Annalisa Bruno (Nanyang Technology University, Singapore) and Dr. Martin Stolterfohlt (University of Potsdam, Germany).
Practical information:
The mini symposium will take place on Wednesday 7th August 2019 and Wednseday 14th August, starting at 13.30h in room 'Zon', Energyville I, Thor Campus, Genk.
To guarantee sufficient seats for participants, and as the symposium will be closed with a small reception, we kindly request your registration:
Session I: subscribe here
Session II: subscribe here
NOTE I: Attending PhD candidates can request a certificate of attendance as part of their yearly Doctoral School (DS) minimal requirements. They will have to sign a form of attendance during the symposium.
NOTE II: For those travelling by car, it is strictly forbidden to park in front of Energyville I and II. For this reason, the local police has already fined several visitors. Parking is available at PARKING 8.
NOTE III: In case of any cancellation, or other (urgent) queries, we kindly request you to inform our office at least by two days' notice via mrs-emrs@uhasselt.be with your e-mail in cc to aslihan.babayigit@uhasselt.be , and subject title '2019 Mini symposium series: Photovoltaics I' or '2019 Mini symposium series: Photovoltaics II'.