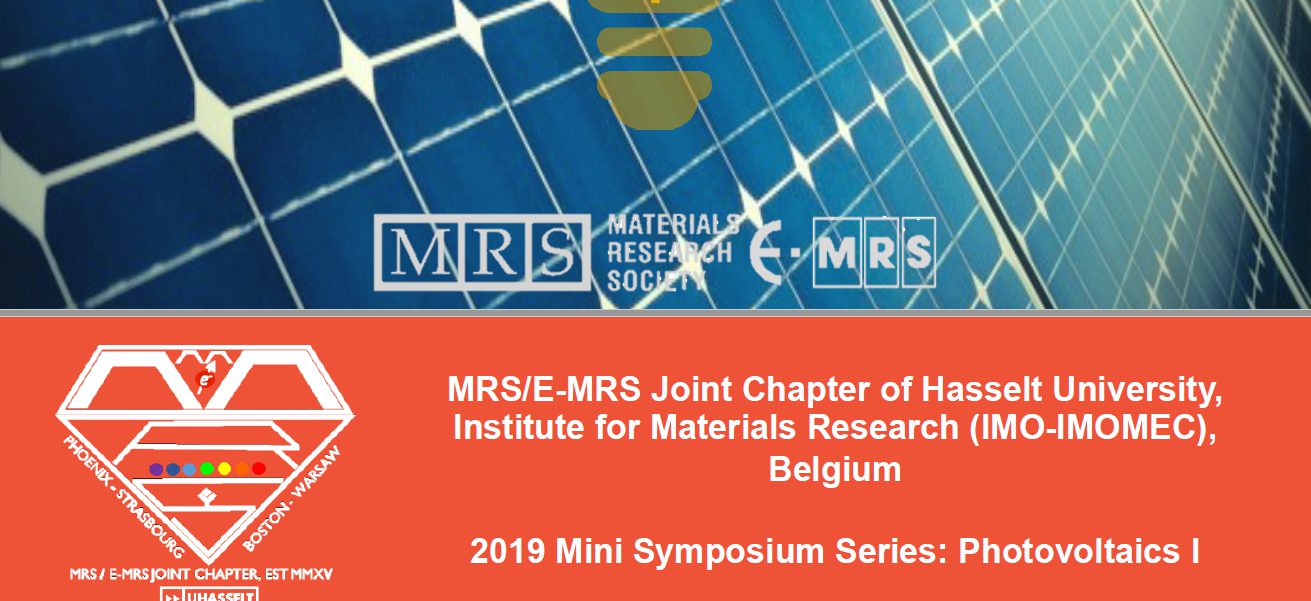 05 aug

MRS/E-MRS Mini Symposia over fotovoltaïcs bij Energyville, Genk

Op 7 en 14 augustus organiseren MRS / E-MRS Joint Chapter van de Universiteit Hasselt en het Instituut voor Materiaalonderzoek (IMO-IMOMEC) een reeks mini-symposia over fotovoltaïsche zonne-energie. Het symposium wordt voorgezeten door prof. Dr. Bart Vermang en hij is gastheer voor een reeks  internationale sprekers.

Solliance-onderzoeker Dr. Veronique S. Gevearts zal in Sessie I bijdragen met "Industriële opschaling voor back-end interconnectietechnologie op CIGS" en zal de resultaten presenteren die haar team bij Solliance op CIGS Back-end interconnectie samen met de industrie bereikt hebben.

Sessie I behandelt "Industrialization and up-scaling of emerging and alternative PV technologies for clean energy production" met bijdragen van Dr. Veronique S. Gevearts (Solliance Solar Research / TNO, Nederland), Dr. Stefano Pisoni (EMPA, Zwitserland) en Prof. Dr. Stefaan De Wolf (KAUST, Saoedi-Arabië).
Sessie II-onderwerpen "High-efficiency perovskite solar cells: From fundamental approaches to evaporated up-scaling" met bijdragen van Dr. Annalisa Bruno (Nanyang Technology University, Singapore) en Dr. Martin Stolterfohlt (Universiteit van Potsdam, Duitsland).
Praktische informatie:
Het minisymposium vindt plaats op woensdag 7 augustus 2019 en woensdag 14 augustus, vanaf 13.30 uur in zaal 'Zon', Energyville I, Thor Campus, Genk.
Om voldoende zitplaatsen voor deelnemers te garanderen, en omdat het symposium wordt afgesloten met een kleine receptie, vragen wij u vriendelijk om uw registratie:
Sessie I: Registreer
Sessie II: Registreer
OPMERKING I: Aanwezige promovendi kunnen een aanwezigheidscertificaat aanvragen als onderdeel van hun jaarlijkse minimale vereisten voor Doctoral School (DS). Zij zullen tijdens het symposium een aanwezigheidsformulier moeten ondertekenen.
OPMERKING II: Het is ten strengste verboden om voor Energyville I en II te parkeren. Om deze reden heeft de lokale politie al verschillende bezoekers beboet. Parkeren is mogelijk bij PARKING 8.
OPMERKING III: In geval van annulering of andere (dringende) vragen, verzoeken wij u vriendelijk ons kantoor minstens twee dagen van tevoren op de hoogte te brengen via mrs-emrs@uhasselt.be met uw e-mail in cc naar aslihan.babayigit @ uhasselt.be en titel van het onderwerp '2019 Mini symposium series: Photovoltaics I' of '2019 Mini symposium series: Photovoltaics II'.