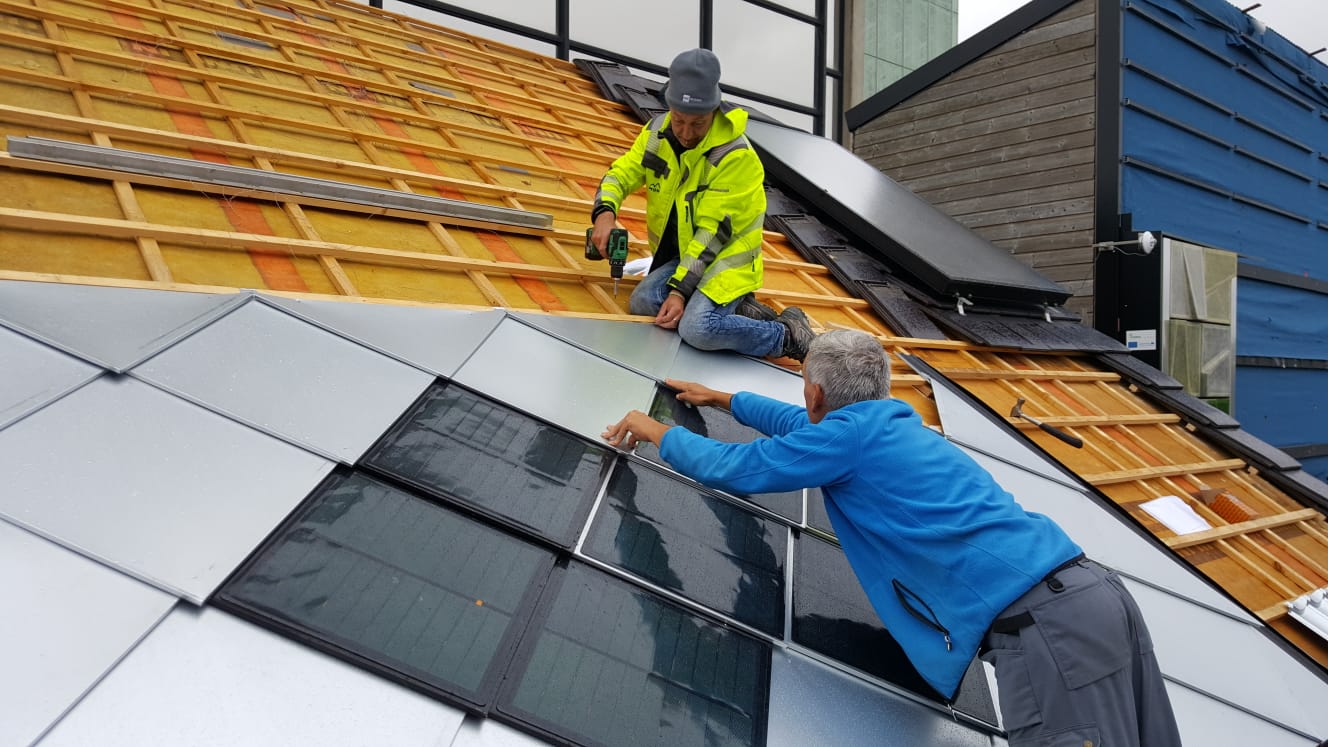 15 Jul

Solar integrated roof tiles tested at SolarBEAT

In a major operation last week, the first prototypes of solar integrated roof tiles, made by Korean Roser are installed at SolarBEAT, the TNO outdoor test facility for solar modules at the Eindhoven University of Technology. This test is another important step towards commercial application of aesthetic integration of thin-film solar technology. 
Solar cells on steel sheets
The roof tiles of Roser are made of steel. They are relatively light weight and easy to install. Using steel has several advantages, like weight, costs and process ability. But unless glass, the barrier properties of steel are not sufficient for solar technology. Protection and barrier technology, as well as lamination techniques had to be developed to come to durable solar roof tile.
In this test Solliance is testing durability and reliability of the solar cells, but also the thermal coatings developed by Korean steel manufacturer POSCO. For POSCO, integrated solar is an important emerging market for steel building elements.
For these first prototypes the integration technology was developed at Solliance Solar Research, an alliance in thin-film solar research led by imec and TNO.
caption: installation of RoofTG and Roser systems at SolarBEAT, photos by Marc Koetse and Roland Valckenborg
Mass customization
"The application of thin-film in commercial products like these roof tiles, confirms our vision on solar in the build environment, solar energy everywhere. To meet future challenges, we have to integrate solar technology in our every day life. At Solliance we work to create a versatile solar foil, that can be used as a semi-fabricate for many building application, like e.g. the roof tiles of Roser", says Peter Toonssen, program manager Shared Research Program Integration & Application. "We call this mass customization, a semi-fabricate solar foil, produced in large quantities and at low costs, that can be used in in the customers production process in a highly customized application."
Inter-disciplinar
The state-of-the-art in this integration is still based on solar cells on a back sheet, laminated on a steel carrier applied with a specialized thermal coating by POSCO, but in the program Advance Module Technology of Solliance, the research focuses on further integration of this stack. This must result in a roll-to-roll solar semi-fabricate that is much thinner and requires less material. This can make the application of solar-foils easier and more cost effective.