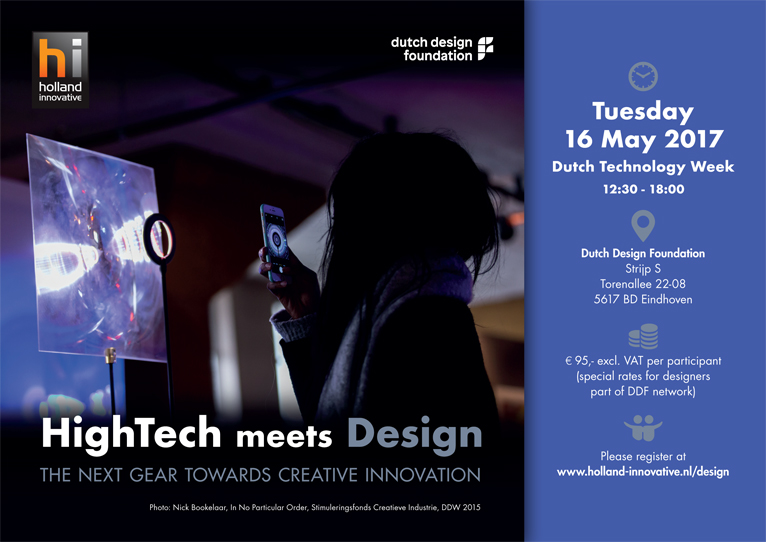 08 mei

Hightech meets Design

The next gear towards creative innovation

The strong design and high tech scene in Eindhoven creates impressive concepts where these two worlds collide. Still, there is a huge potential for these powers to put their creative heads together.

What we have seen so far is only a sample of the possibilities; there is more ground to win.  Designers have great ideas that too often remain in their conceptual stages.

High-tech companies have innovations on their shelves waiting for designers to invent applications for them.

Solliance challenges designers to develop ideas based on energy generating solar raods and pavements. What do you think when I say "Solar Square"? What ideas come up on a concept of open urban spaces combined with the urban hunger for energy?

So let's meet up on the 16th of May for the second edition of 'HighTech meets Design' and create an innovation arena to turn our fantastic design and tech qualities into a key resource for business.

This DDW kick-off event will lead up to a presentation of cases, products and new alliances during Dutch Design Week 2017.

Pre-program 'What if lab: `Marathon Eindhoven'

10.00-12.00    5 design pitches What if Lab Marathon Eindhoven, by Dutch Design Foundation.
With an introduction by designer Arne Hendriks.
Start HTMD program
12.30-12.45  Registration (coffee/tea)
12.45-13.00  Word of welcome
Martijn Paulen (Dutch Design Foundation)
13.00-13.45  Panel discussion with the audience
Panel members:
Geert Christiaanse – Senior Director of Design Innovation at Philips Design
Guido D'hert – Managing Director Communications, Media & Technology at Accenture
Koen Snoeckx – Baltan Laboratories & Creative Ring
Marijn van der Poll – Conceptual Thinking.eu
13.45-14.45  Explorations for cooperation
• What if Lab Marathon Eindhoven by Dutch Design Foundation – Announcement selection definitive proposal.
• Solar Energy meets Dutch Design: Solarsquare by Solliance
• Converting toilet water into clean drinking water by IPStar spinout SEMiLLA Sanitation Hubs
• Open Call: Wear Sustain – Ethical Wearables (EU H2020) by Creative Ring
• 2,5D printing techniques by 40Layers
14.45-15:00  Short break & network drink
15.00-16.30  Break out sessions – Explorations for Cooperation (4 round table sessions)
16.30-18.00  Roundup & Network drink
Explorations for cooperation
During High Tech meets Design different themes will be explored for cooperation. You are able to join in the following 5 programs: